About us
Our research group is working on combinatorial optimization problems, such as scheduling, routing, sequencing, assignment, covering, packing and cutting problems. We are mainly interested in devising efficient heuristic or exact algorithms for such problems. The methodologies we are interested in include branch-and-bound, dynamic programming, local search, Lagrangian heuristics, metaheuristics such as simulated annealing, tabu search, genetic algorithms, GRASP, iterated local search, variable neighborhood search, etc.

Research interest

Postal address
Department of Computer Science and Mathematical Informatics
Graduate School of Information Science, Nagoya University
Furocho, Chikusaku, Nagoya 464-8601, Japan

Access
Yagiura Lab is Located on Graduating School of Information Science Building.
Room 311 is professor's office and Room 105 is students' room.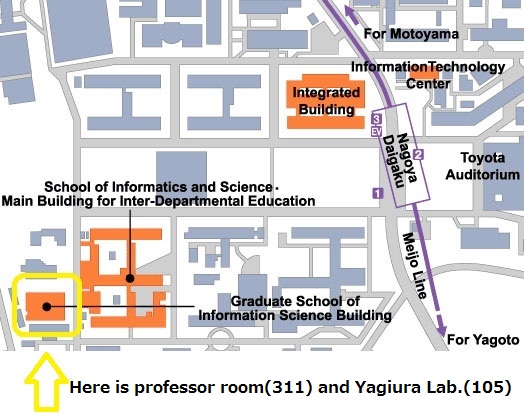 Members
Professor
YAGIURA, Mutsunori
yagiura at nagoya-u.jp
Assistant Professor
HU, Yannan
yannanhu at nagoya-u.jp
Guest Researcher
TANAKA, Yuma
PhD Students
D3
HAMA, Vitor Mitsuo Fukushige
MATUSHITA, Ken
TAKADA, Yosuke
D2
DONG, Hang
GU, Xiaoyi
D1
TAKASUKA, Masahide
Master Students
M2
HE, Ruoxi
HONG, Yani
JI, Chaofan
KONDO, Katsumi
SAKABE, Masahiro
TAKIMOTO, Shuto
M1
GIM, Haneol
ISHIKAWA, Ren
OKADA, Kanji
SUGIURA, Tomoki
UKAWA, Tomoya
YU, Yan
Special Research Students
Rafael Kendy Arakaki
Bachelor Students
B4
ARIZONO, Shun
BARAK, Eliram
HATTORI, Kouki
OKAMOTO, Mitsuhiro
TAKEDA, Kiyoshi
TERAMOTO, Kouki
Foreign Rearchers and Students
Please change at to @ in mail address